T. Daniel Productions is an International Mime Company
Over the years T. Daniel Productions
has invited thousands to experience great Mime -
Mime as it should be!
We create Mime productions that tell a story without the need for words
to create moments that are unforgettable...
"moments to take the breath away..."
transporting audiences to new vistas... 
Creating  exceptional Visual Movement Theatre. 
What the Art of Mime should be!
Come see for yourself!
---
Over a span of time, T. Daniel & Laurie Willets have taken audiences on a journey through the imagination, discovery of the magic within, enhanced classical music with moving images and enticed them with imagery of movement. They have given a new voice to Mime prompting one presenter to say: h"ad I known how different your production is, I would have booked the show sooner"; and the elderly couple who almost did not come because "…we do not like mime, but this was so different we enjoyed the experience."
Based on Mime, T. Daniel Productions is a multidiscipline movement company who creates mostly original art. With an extensive training in theatre, mime, circus, art and magic; our Artistic Directors, T. Daniel and Laurie Willets, have created twenty full productions, collaborated with thirty-five world class orchestras all in pursuit of the mission to change and empower audiences' vision of theatre and mime. They apply their skills to create moving images to non-text classical music from J. S. Bach to Français Poulenc to Erik Satie; and apply the moving technique of mime to important text based music from Igor Stravinsky and C. F. Ramuz' l'Histoire du soldat, Jean Cocteau and Darius Milhaud's Le Boeuf sur le toit, and Kurt Weill's Magical Night. Shifting the perspective of mime on stage is at the heart of their impressive stage creations. Founded on the philosophy of Marcel Marceau, Etienne Decroux, Jean Louie Barrault, Edward Gordon Craig, Wassily Kandinsky, Oskar Schlemmer and Antoine Artaud, T. Daniel Production is in pursuit of a movement theatre founded upon Mime. Each new production continues the journey toward a visual theatre that brings drama, painting, human motion, human emotion with an advanced technique of theatre and mime to create dramatic images that explode before the eye and engage the mind.
Each creation attempts to take the audience on a journey to places seldom seen;
to offer new visions;
to conjure an imagined idea:
A World of Mime
The Magic of Mime
Fantasmia
Shadows of a Mind
Merlin & The Color of Magic
Structures on Silence
Magic, Mime & Mirth
Christmas Wonderment!
Innovations
Tea on a Settee with Satie
Benches
T. Daniel Productions Will Present 
Three Unique Productions in the
2017-2018 Season: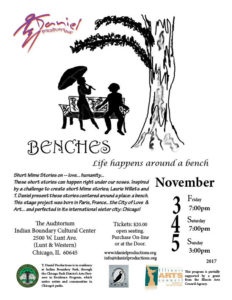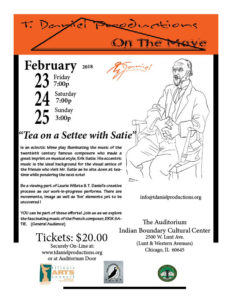 And a New Production to be announced at a later date.
Performances:
April 20, April 21, April 22
2018
T. Daniel Productions Facts
Number of Performances
5314
Your Donation will help us create New Productions...
We are counting on your support
Please donate today...
Thank You!