Physical Comedy
Workshops and Classes
Begin January 13, 2018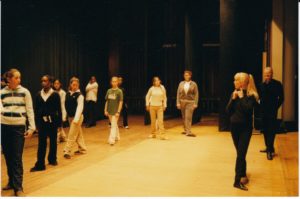 Learn the ins and outs of comedy that is created by simple movements.
These workshops and classes take you beyond the antics of  the clown,
beyond the usual slapstick.
We will explore visual comedy, what make comedy, what makes visual humor
and study the concepts and ideas used by great performers like:
Red Skelton, Dick van Dyke, Marcel Marceau, and many many others.
We will practice vaudeville routines and create our own routines.
We will learn from film makers like:
Charlie Chaplin, Jacques Tati, Abel and Gordon.
See how Shakespeare uses  physical comedy as well as the Commedia dell'Arte.
Join us on an exploration into Visual Humor
Workshop is on January 13, 2018
Classes start January 20, 2018!
Physical Comedy Workshop
Next Free Workshop is 
Saturday, January 13, 2018 at 2:30 pm
The workshop is for 2 hours 
And will be held at
Indian Boundary Cultural Center
2500 W. Lunt
Chicago, IL 60645
(Lunt and Western)
To register for this workshop
Click register for workshop button
Physical Comedy Classes
Next Class begins
Saturday, January 20, 2018 at 2:30 pm
The class will meet once a week for 1.5 hours for 10 weeks
Classes end on March 24, 2018
The classes will be held at
Indian Boundary Cultural Center
2500 W. Lunt
Chicago, IL 60645
(Lunt and Western)
The 10 week classes at $150.00
(Due on the first day of class)
To register and pay for the course
Click on the Buy Now Button