Pierre Verry
(1913-2009)
An Extraordinary Mime
and our friend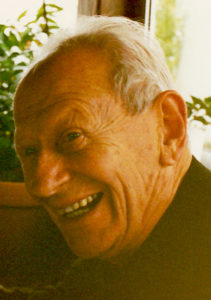 Remembering Our Teacher & Friend Pierre Verry
Our very dear friend, Pierre Verry passed away on October 3, 2009. He was 96 years old!
Most people will remember Pierre as the person who held the signs that introduced each of Marcel Marceau's numbers. But, we remember him as our friend, our teacher and a great Mime!
The war had ended when Pierre saw a performance by Etienne Decroux. That convinced him to begin studying Mime. He entered Decroux's class on January 18, 1947. Later he became a member of Decroux's company. He left Decroux to join Marceau's company in 1952, with whom he remained until he retired in 1979. Pierre distinguished himself as a great mime in the many Mime Plays that Marceau Produced in the 1950s and 60s; and, of course as Marceau's "Presenter of Signs". Pierre and Marcel were friends beginning at Decroux's school and long after Pierre retired.
Pierre was one of the very few people who worked with both Marceau and Decroux, giving him a perspective on Mime unlike anyone else.
When Marceau opened his first official school in Paris, Pierre became the Director. This is where I first met Pierre. Coming from Chicago, I would stop by the office of the school to see if there was any mail for me. Pierre and I would often have a brief conversation before I rushed off to lunch. At some point, our conversations began to take up the entire lunchtime. At one such meeting, Pierre offered me half his sandwich and a glass of beer as our conversation about Mime, history and teaching continued. Then one day Marguerite, his wife, made an extra sandwich for me. Those noontime discussions were very important to me and, as I learned later, to Pierre as well.
After the school, we would meet as we crisscrossed the United States and Europe performing. When Laurie joined me and Mime became our journey, Pierre became her teacher, her friend and important to her life. Pierre helped us on our life journey in more ways that we can explain.
We often visited Pierre and Marguerite in their wonderful home in Southern France. Learning that Marguerite had passed away was devastating to us. We talked with Pierre by telephone and wrote letters during this difficult time.
Laurie and I wrote often to Pierre, sent news of our performances, as he told us about life in Southern France. We looked forward to every time we visited Pierre, as this was an opportunity to talk about Mime, history and life. How we cherish those moments. We also had ritual: every year on Pierre's birthday, November 26, no matter where we were or where he was, we telephoned him.
Now he is gone. There is a void in our lives that cannot be filled. We will always remember the great twinkle in his eyes, the laughter in his voice and the easy and smooth manner of his walk. Our memories of Pierre are many.
The Art of Mime has now lost all the great 20th century Masters of Mime: Pierre Verry, Marcel Marceau, Jean-Louis Barrault, Jacques Lecoq and Etienne Decroux. There are just a few members of Decroux's company and a few of Marceau's company who remain with us.
For Laurie and I we are left with our memories of Decroux's classes, our memories of our friend Marcel and our memories of our dear friend Pierre. We can watch Pierre on the film we made; we can hear Pierre on our recorded interviews, we can look at our photos of Pierre and remember the great times that we spent together. Pierre, Marcel, and Decroux will live on in what we do; they will always be in every performance we give. It is hard to say good-by to good friends, we have had to say good-by to Marceau and now to Pierre. Time will not forget their contribution to our lives and to the Art of Mime. Good-By Pierre!